Hotmail.com Login.
Sign in to your Hotmail email account in a few seconds.
This is how you do it.
Note, that you must have an existing Hotmail account in order to check your emails or compose new emails messages.
Hotmail is now Microsoft Live. In 2015, the Hotmail brandname was re-branded to Microsoft Live, and the popular www.Hotmail.com website now re-directs to the www.Login.Live.com login page.
Don't worry, your Hotmail account username and password remains the same.
Hotmail Email Login.
How do I Log In to my Hotmail Account?
Answer:
If you already have signed up for a Hotmail email account, then go directly to the Login Page at https://outlook.live.com or https://login.live.com to sign in to your Hotmail.com email account or Outlook account.
On the Outlook Login page, enter your @hotmail or @outlook.com email address, or alternatively your associated phone number or Skype ID in the first field.
Click on "Next"
On the next page, enter your Hotmail Password, taking care to enter correct case-sensitive letters, and avoided any "spaces".
Click on "Sign In".
You will now be logged in to your Outlook or Hotmail email account.
You can also access your Hotmail email account by downloading the Microsoft Outlook app, which is used for Hotmail and Microsoft Live accounts. Search Google Play Store or the Iphone App Store for "Microsoft Outlook" for Android or iOS to download the app.
If you are browsing via a mobile phone, you can also simply access the normal login  webpage from your mobile phone, by visiting to www.hotmail.com or login.live.com.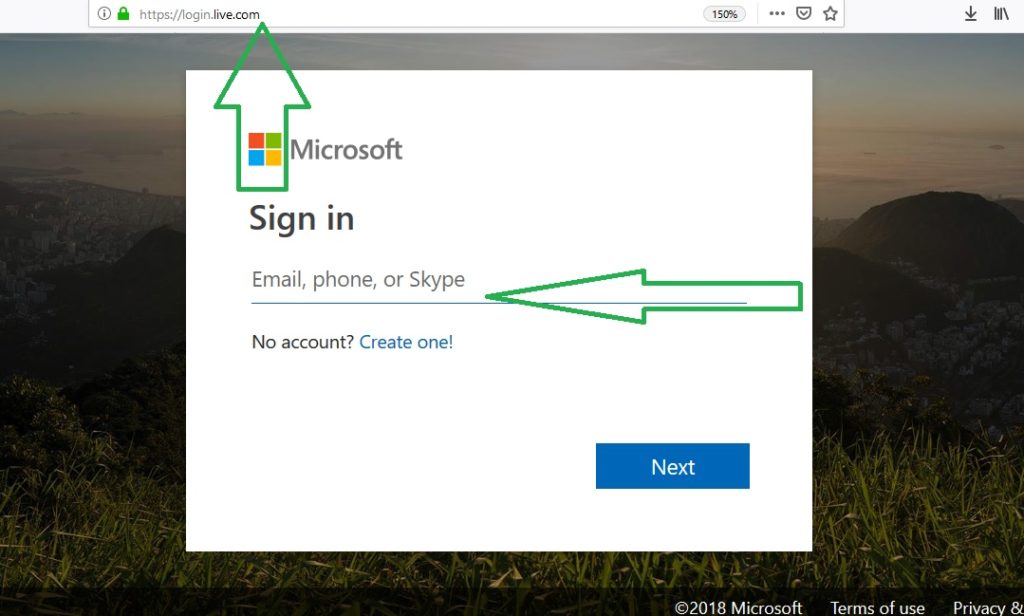 Xbox, MSN Messenger and Outlook Login.
All Microsoft brands can now be accessed with the Microsoft Live same account username.
This means that Hotmail Email, MSN Messenger, OneDrive, Windows Phone, Xbox LIVE or Outlook.com accounts are now accessed through the same Login.Live.com sign in page.
I Have Forgotten my Hotmail Password.
How do I reset a forgotten Hotmail Password?
If you need to reset your Hotmail password, then navigate to the Hotmail  password reset page.
Enter your  @hotmail or @outlook.com email address, or alternatively your associated phone number or Skype ID in the first box.
Click on "Next".
Ont he next page you will see a message displaying: "We need to verify your identity. How would you like to get your security code?"
You will get to choose either having an email sent to your backup email or a SMS code sent to your mobile phone.
Click on your choice, then click "Next".
Open your email, or enter the security code.
How do I recover my Hotmail Account Username?
If you got the error message "That Microsoft account does not exist", then this is how you find it.
To recover a Hotmail account username, go here, and enter either your alternative backup email address or your phone number that is associated with your Hotmail MSN Microsoft account.
Then click on "Next".
A Security Code will be sent to your phone or backup email address. Enter the code and select Next.
When you see the account that your have forgotten the username of, then select Sign in.

If you have not set up or you do not have access to your security contact information, try looking for your Microsft MSN Hotmail account username in the Microsoft products or services, that you are using, such as your Xbox Live Username, Windows 10 or Microsoft Office Username.

For example, to find your Microsoft username in Windows, select Start  > Settings  > Accounts . Under the section "Email & app accounts", you will see the usernames associated with your phone or laptop.
Ask a question in the comment section, if you have a pressing email problem.