WalmartOne Login.
WalmartOne is the associate/employee portal for the Walmart Corporation. At WalmartOne.com, employees can check work schedule, view paystubs, see benefits information, apply for holidays and PTO,  from their desktops or with the WalmartOne App.
Walmart Associate Login.
The official login page can be found at https://authn.walmartone.com/login.aspx.
If you already know your user ID and password, then you can just proceed with entering them and login.
If you do not yet have User ID and WalmartOne password, then click on the "Register" link.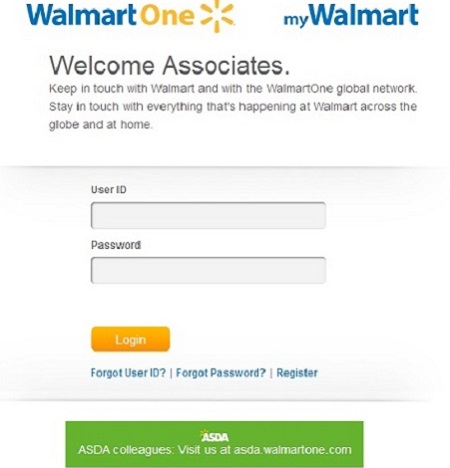 WalmartOne Registration.
On the Walmart One registration page, enter the following information:
Walmart Identification Number (WIN)
Your Birthday
The hiring date
Your email address
Submit this information and you will receive an e-mail with your WalmartOne login information.
www.WalmartOne.com.
To access the Walmart One website, simply enter www.WalmartOne.com into your internets browser's URL address, and press enter. Once on the main WalmartOne page, click on "Sign In".
If, for some reason the page will not load, then you can try:
https://us3.walmartone.com
https://us.walmartone.com
www.mywalmart.com
WalmartOne Schedule.
How do I check my Walmart schedule online?
Answer:
Login to the WalmartOne portal.
Go to the top of the page.
Click on  "View Full Schedule".
Alternatively, download the WalmartOne app (WM1), or the "My Walmart Schedule" app.
Open either app, enter your login credentials, and go to "Schedule". Then click on "Today" or "Week".
WalmartOne Paystubs.
How do I check my paystubs on WalmartOne.com?
Answer:
There are 3 ways to check your Walmart paystubs online:
1. Login to Walmart One. Click on "Money", then click on "View pay stub". Paystubs are listed by payslip date order.
2. Download the WM1 app to your mobile phone, open the app, log in, and click on "Menu", then Paystubs.
3. Go to www.paystubportal.com/edlpsmlb. Enter your Birthdate (MMDDYY), WIN (9 digit Walmart ID number), Facility Number and 4 digit PIN number.
Helpful Resources:
WalmartOne Lost Password: www.walmartbenefits.com/Registration/ForgottenPassword.action
WalmartOne Forgot ID: www.walmartbenefits.com/Registration/ForgottenUserName.action
Other Login Guides:
ASDA Walmartone (UK Login)
Our Sainsburys UK Employee Login
My Sainsburys UK Login
Please share feedback. I you are having problems with WalmartOne.com or the WM1 App, or even if you have praise, then we would like to know in the comment section.
Ask a question in the comment section, if you have a pressing email problem.