Change a Gmail Password.
How to change your current Gmail or Google Account password, and how you recover a forgotten Gmail password.
Gmail is a free webmail service, which originally launched in 2004 and is owned and operated by Google. It is one of the most popular webmail services in the world and, as with other similar services, users are able to register their own personal email address and then use the service to send and receive emails.
As part of the account creation process, users are required to come up with a password, which is used to log in and to keep the account secure from unauthorised access. However, users may forget their password, or may need to change their password if their account becomes compromised.
Fortunately, Gmail has been developed with both of these eventualities in mind, and offers options to securely recover an account, or change a password.
Recover a Forgotten Gmail Password.
If you have forgotten your Gmail password, you should still be able to gain access to your Gmail account by using the recovery procedure. To do this, go to the main Gmail homepage ( www.google.com/gmail ) and click 'Sign In'. Enter your email address in the relevant field and click 'Next'.
Then, on the next page, click on the option labelled 'Forgot Password?' (This might be labelled "I Forgot My Gmail Password" in some regions).
You may be asked to re-enter your email address. If so, enter it and then click 'Next'. At this point, you will be asked a series of questions to try to establish that you are the true owner of your account. For each question, read it carefully and try to answer accurately. If you are unable to answer, click 'Try Another Way'.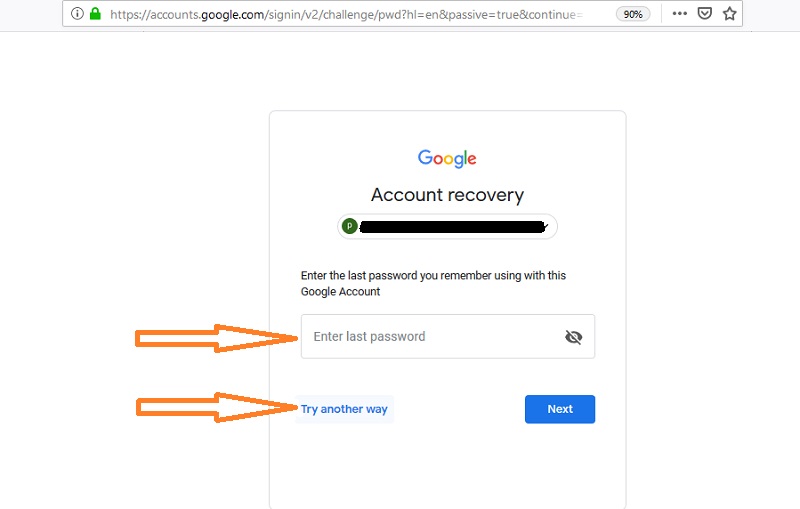 Once you have established that you are the true account owner, you will be prompted to reset your password. This may involve an email being sent to the recovery email address linked to your account, assuming you have one. Regardless, follow the on-screen instructions and choose a new password. You cannot choose a password you have previously used with your Gmail account, so make sure you select a completely new and unique password.
Please note: If you do not have a recovery email address linked to your account and you have successfully logged in within the past five days, you will need to go five days without logging in before you can reset your password.
Gmail Account Recovery Questions.
During the account recovery process, Google will use a number of different questions to try to establish whether you are the true owner of the Gmail account in question. As part of this process, you may be asked to provide any of the following pieces of information, and the questions can be asked in any order:
The recovery email address linked to your account;
The mobile phone number associated with your account;
The security question and answer linked to your account;
The month and year you originally created your account;
One of the previous passwords associated with your account.
If you have two-factor authentication enabled and have access to the device where your verification code is usually sent, you can also recover your account in this way. If you are presented with a question you cannot answer, select 'Try Another Way' and try the next question. However, you will need to be able to answer at least one.
Change your Gmail Password.
Alternatively, you may know your current password, but wish to change it. It is actually recommended to change a Gmail password fairly regularly for security purposes, and is especially important to do so if your account has been compromised, or if any other account of yours with the same password has been compromised.
To do this, log in to your Google account in the usual way. This can be done by going to the main Gmail homepage and clicking 'Sign In'.
Alternatively, go to www.myaccount.google.com, or you can click here. Once you have signed in to your account, go to 'Security' and then find the option labelled 'Signing In to Google'. If you start from the mail.google.com page, you will need to click on the Google Account icon in the top left corner, and then click on "Google Account", to get to the Google Account start page.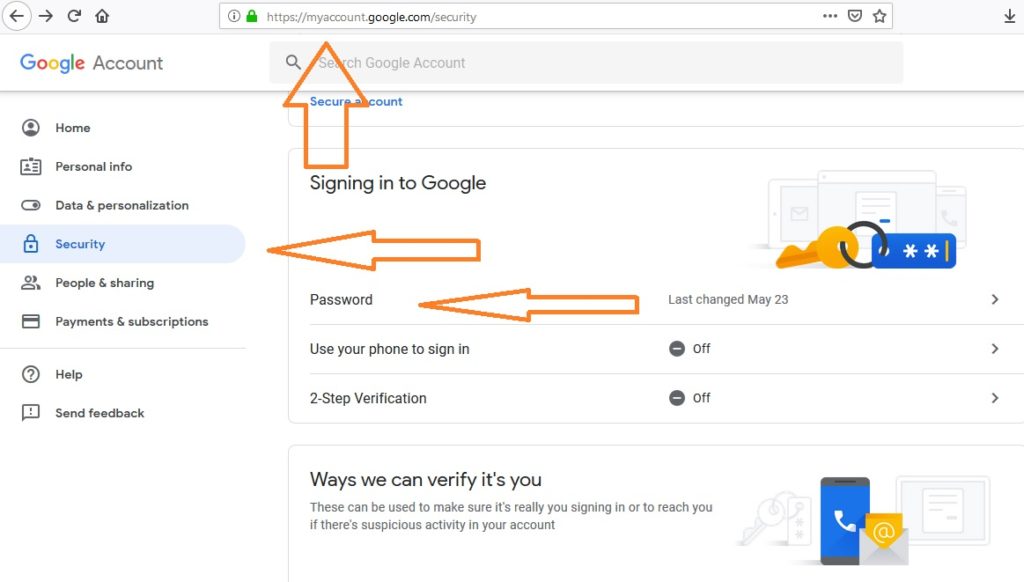 From there, click on the 'Password' option. At this stage, you may be required to sign in again. When presented with the relevant screen, enter your new password and then click 'Change Password' to complete the process.
Ask a question in the comment section, if you have a pressing email problem.